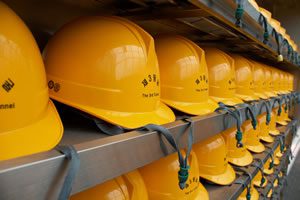 The safety of fallers working in BC's forest industry comes into greater focus as the BC Forest Safety Council has announced updated safety requirements to ensure that fallers are adequately certified and evaluated. This year, the Council will be launching an annual renewal fee system for BC's certified fallers, and will also be piloting a re-evaluation system that will both assess fallers' skills and offer fallers the chance to raise their certification levels.
These new requirements arise as a result of 2005 statistics, which show that 43 forest workers (7 of whom were fallers) died on the job in that year alone. In particular, the death (and subsequent inquest) of a veteran faller in November 2005 highlighted the pressing need for improved training and supervision to better ensure safety for forest workers.
Certification is, of course, a current requirement for fallers seeking employment in BC's forest industry, with licencees and employers responsible for ensuring that certifications are up-to-date. The renewal system requires that a fee must be paid in order to ensure that qualified fallers have current certifications to perform specific tasks. The renewal system also introduces a formal procedure for on-site re-evaluations of certified fallers to ensure that safe work procedures are being followed.
The required re-evaluation process can be conducted by council-trained faller supervisors or bullbuckers who are working at the site. Alternatively, if trained personnel are not working at the site, forest companies can pay a contract fee to bring a qualified (council-trained) supervisor trainer to conduct the re-evaluation. Re-evaluations will take place at least once every three years in the hopes of ensuring that fallers' skills continue to meet the current BC Faller Training Standard. Fallers who demonstrate appropriate work habits during the re-evaluation process will be permitted to increase their certification levels to enable them to work on steeper slopes and larger trees.
The new requirements reflect a sharper focus on, and deeper concern for worker safety in the forestry industry, and the hope is that faller certification renewal and re-evaluation will help ensure that workers have obtained adequate training, knowledge and skills — and are therefore able to work safely.
The re-evaluation process is being piloted this year, with full implementation and enforcement starting in 2009. As of January of this year, faller renewal fees apply to all faller certifications that expire in 2008 and onwards, with fallers required to pay $150 annual fees to renew their certifications. Fallers registered in an independent category of the BC Forest Safety Council's SAFE Companies program will be charged a reduced fee of $100. Renewal fees will cover administration and quality assurance costs for the program.
For more information about certification renewal fees or the re-evaluation process, contact the BC Forest Safety Council.
Simply Safety! incident management software can help protect you and your company by allowing you to be proactive in reducing risk and associated costs and keeping an accurate due diligence trail. Simply Safety! software program replaces paper-based or spreadsheet tracking with a modern efficient way to manage critical compliance data.
Looking for a better way? Call 1 800 862-9939 today to book a 20 minute online web demo of Simply Safety! for your management team!
Visit the Simply Safety! products page.