Since the incident happened, your team reacted swiftly to document the details, create a timeline of activity and list all contributing factors. So what's next?
Steps should now be taken to eliminate any chance that the same circumstances will reoccur and to do that, your organization should perform a formal root cause analysis – one that is thorough and credible.
CCD's RC Analyst software will guide your team through a closed-loop investigative process to correct any identifiable causal factors. Built using the latest web-based technology, our program follows a sequential process to collect, analyse, report and resolve. No programming expertise needed.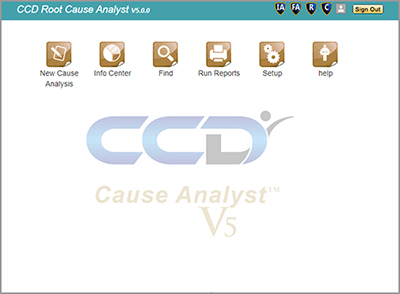 RELEASED THIS YEAR!
Just a few of the product's features include:
Automatically load contributing factors and proximate causes from your incident reporting system,
Track all actions taken, both immediately following the event or in a detailed timeline of activity,
Collect and review external documentation before starting the process,
Log time accumulated by all team members and generate costing/resource reports,
Collect a list or possible contributory causes using several sources such as sequence of events listing, brainstorming, or a Critical Event Guide,
Investigate each Probable cause in order to learn more about its potential status,
Allocate each factor a risk priority number (RPN) based on Severity, Frequency & Detect-ability. View factors by their RPN order to assign resources in the most cost-effective manner,
Drill down into each Probable Cause using the "5-why" or "Fish-bone" methodology to determine whether it is a Root Cause,
Document recommendations for change, assigned to each Root Cause,
Implement Corrective Actions that can be assigned to employees and followed-up on through alerts and reports,
Distribute the analysis within your organization or externally to pass on lessons learned.
Configure the application to suit your organization's workflow process:
Select colors to the 5-why levels
Create multiple Critical Event Guides (CEG) used to prompt for possible causal factors and assign the proper CEG to the RCA type
Decide which tabs should be displayed for each type of RCA