Description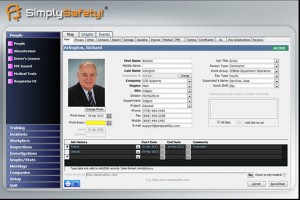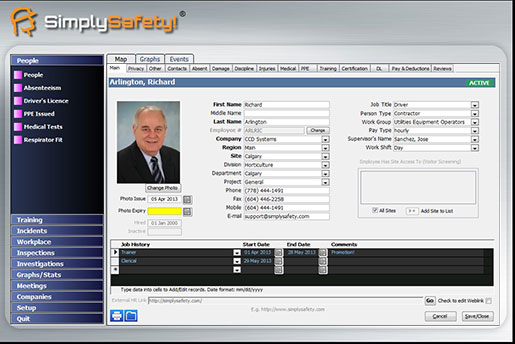 Simply Safety! software is an easy-to-use safety management application that helps your safety team manage people, safety, and training.
This 'all-in-one' safety management software program helps the safety manager track, analyze, report, notify, and improve safety and training performance plus meet mandatory reporting requirements.
The modular design allows you to expand your software to meet the needs of your company.
Secure
The Simply Safety!® Safety management program sits securely inside your company firewall so confidential safety records are not exposed on the internet.
Centralized Information
Simply Safety!® centralizes and simplifies information that could be critical in a regulatory or legal challenge.Instant access to records saves time and allows you to quickly demonstrate a due diligence trail. No more scrambling to find the needed records in a time of crisis.
Sophisticated Notification
Automatic incident notification is built right into the safety management program to keep managers advised of incidents as they occur. Built in graphing, reporting, and trend statistics make patterns clear.
Simply Safety!® Alert generates automated email alerts of expiring items. Pre-schedule your own customized alerts and generate them at intervals to keep site managers up to date on expiring items such as safety management training certifications and overdue safety meetings and workplace inspections.
Be proactive in reducing risk and associated costs with safety management software. Management reports and graphs expose high risk areas and allow you to proactively avoid costly fines, insurance premiums and legal bills by taking action before issues arise.
Automatic notification and expiry tracking saves management time and ensures everything is kept up to date.
The Platinum version includes over 20 integrated modules covering all areas of safety within your organization:
Incidents (injuries, damages & WCB claims)
Training (qualifications, course management, class assignments, certificates and more)
Inspections (air quality, fire extinguishers, job hazards)
Investigations
Corrective Actions
Employee Management (HR fields, PPE assignment, discipline, medical, hire history, and more)
Site Access – based on qualifications
Many other features…
Check out a comparison of modules packaged with each version here.